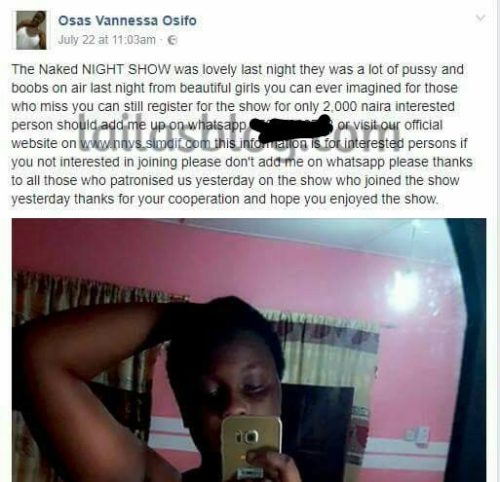 According to lailasblog a Nigerian lady Osas Vanessa Osifo has launched a Porn live show on facebook and men are made to pay N2k before they can join in and watch her videos, well below is how lailasblog is reporting it;
Guys, there are so many things happening on social media you all don't know about, but c'mmon, trust Lailasblog to always bring you the gist. So we stumbled on this Facebook page Nigerian men go to on Friday Nights to watch nude girls, and of course it's not free, they pay N2,000 for it.
So according to the information passed round to potential subscribers by the convener, identified as Osas Vanessa Osifo, here's how it works; you pay the money, then you're given a number for a Whatsapp Channel where you have free access to watch these nude girls. So far so good, nobody has complained, so it seems business is going smoothly.
Here are some of the messages passed round to potential subscribers;
"I want to thank all the members in the NNV show for making it a success to another level on the show from the platform we say thank you….please don't forget our show still commence this Friday on the 4th…we will be making welcome to new members on the show…it going to be a one of it kind….please for those interested on the show should please add me up on whatsapp 0706+0+2+8+ please if you not interested don't add me,,, else you will be kicked out of my whatsapp list with immediate ineffect …registration cost 2,000 naira"